The

Elevate - Pan-Asian and Allies BRG

proudly presents the next event in the Elevate Speaker Series.
Featuring Urvashi Tyagi
Chief Technology Officer, COE-UX/Enterprise Architecture
Career Advice from Urvashi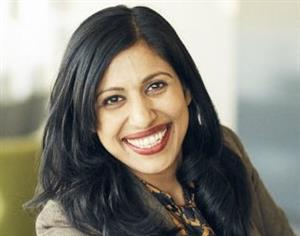 Urvashi Tyagi joined the Global Product & Technology (GPT) team as Chief Technology Officer in September 2019. Urvashi is #WorkingFor, "Empowering clients while accelerating innovation for business and social good."
Urvashi is responsible for establishing a long-term technology vision and strategy, ensuring alignment across the enterprise, including adoption and migration to the public cloud as well as ADP's approach to emerging technologies such as Blockchain and Real-Time Payments. She will lead key enterprise technology functions in our User Experience & Design and Enterprise Architecture teams, as well as governance for applications, infrastructure, and data and information architecture. Urvashi will establish a digital enablement team and will partner with key functions such as Global Security, Corporate Development, ADP Ventures, and business unit leads as an advisor on critical technology issues.
Prior to ADP, Urvashi served as Vice President, Global Commercial Data Engineering at American Express, where she led technology transformation for global products and modernized company platforms. She also led the Artificial Intelligence and Machine Learning Center of Excellence teams for commercial payments. Before Amex, Urvashi was Director of Engineering for Amazon Audiobooks and original programming at Audible, where she launched the mobile store worldwide, evolved the tech stack, and launched a scalable platform for international expansion. Earlier, Urvashi worked at Microsoft, IBM, and Bridgewater associates.
Urvashi is the co-founder of Scarlet Fresh Shoe which drives innovations in shoe repair that reduce the carbon footprint, and is the co-founder of HerComputing, which makes coding easy and fun for primary and secondary education.
Urvashi has a bachelor's degree in engineering from Sardar Patel University, India; an MBA from Veer Narmad South Gujarat University, India; and a master's in information technology from Worcester Polytechnic Institute, Massachusetts. She currently serves as an advisory board member at Worcester Polytechnic Institute's Arts and Sciences department.
Urvashi is based in Roseland, N.J.
Not able to join at this time? The webinar will be recorded for your viewing leisure after the live event. A link to the recording will be emailed to all event registrants and posted in the Elevate group in ADPworks.
---
What is Elevate?
The Elevate BRG (business resources group) is one of the business resource groups at ADP that is open to all and supports the career growth and development of associates by providing networking opportunities, cultural awareness training, leadership development and community outreach initiatives. Elevate. also supports efforts to connect ADP to external markets to further our organization's global success.
ADP, the ADP logo, and Always Designing for People are trademarks of ADP, LLC. Copyright ©2019. ADP, LLC.