Strengthen Your Nursing Leadership Skills:
How to Get the Work Done,
Speak Up Effectively, and
Live to Enjoy Another Exciting Day
On Demand
A link will be emailed to all registrants on November 6, 2019 so you can view the on-demand webinar at your convenience.
You know the challenges of being a nursing leader – especially during the first few years that you assume a leadership position. Leading can be exhilarating, exhausting, rewarding, and draining. When you master some key skills, it can also be the most satisfying role you ever have in your chosen career.
Designed for RNs who want to develop their skills as a nurse leader, content of this real-world, action-oriented 90-minute webinar includes:
Being productive in your personal and professional roles

Overcoming procrastination

Setting effective goals and managing your time

Promoting yourself as a new leader

Getting connected and finding new opportunities

Investing in yourself

Learning to communicate effectively – holding crucial conversations as a new nurse leader

Addressing problems and having difficult conversations

Providing effective feedback

Keeping your team on the right path

Overcoming adversity – responding as an effective leader when things don't go your way

Regrouping and staying positive

Setting the right example

Making lemonade from your lemons
You may have seen Dr. Chunta's two previous highly-rated webinars designed for up and coming nursing leaders, "Five Critical Actions to Take Now to Position Yourself as an Up & Coming Nursing Leader" and "How to Master Your New Leadership Position and Advance Your Career: Essential Actions and Skills." If so, you know that this webinar will be full of useful information and presented by an excellent speaker. Even if you haven't, you'll discover all-new content that provides valuable skills as you begin to settle into your new leadership position and strengthen your skills in important areas.
Who should attend: Up & Coming Nursing Leaders in all practice settings
Additional information: Register by November 5 at 1 pm ET to receive 24/7 access to the recording of this brand new webinar.
A link will be emailed to all registrants on November 6, 2019 so you can view the webinar at your convenience.
This program is informational only; no contact hours will be awarded.
Individual pre-registration is required.
Questions or group attendance requests:
Please email anamembershipwebinars@ana.org
____________________
Our Presenter: Kristy Chunta, PhD, RN, ACNS, BC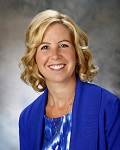 Professor, Department of Nursing and Allied Health Professions
Indiana University of Pennsylvania, Indiana, PA and Community Manager, ANA's Online Faculty Community
Dr. Chunta is a Professor at Indiana University of Pennsylvania and has been teaching undergraduate and graduate level courses for over 12 years. She currently teaches undergraduate clinical with senior nursing students and graduate courses that focus on professional role, teaching strategies, curriculum, evaluation, simulation and technology, informatics, and research. Dr. Chunta has provided oral and poster presentations at many national and international conferences including several presentations addressing senior students' leadership skills and transition to practice. She has provided several ANA webinars for faculty, early career and up and coming RNs. Dr. Chunta has published on a variety of topics including a co-authored article addressing workplace incivility.
Our Moderator: Aaron Sebach, DNP, MBA, AGACNP-BC, FNP-BC, FHM
Chair, Doctor of Nursing Practice Program, Wilmington University, College of Health Professions and Community Manager, ANA's Online Up & Comer Community
Dr. Aaron Sebach is a nationally board-certified Adult-Gerontology Acute Care & Family Nurse Practitioner licensed in Maryland and Delaware. He is an experienced clinician with an active clinical practice as a Hospitalist Nurse Practitioner and is a Fellow of the Society of Hospital Medicine. Dr. Sebach was previously a nurse leader and holds a Master of Business Administration in Healthcare Administration.
Dr. Sebach is also an experienced educator teaching undergraduate and graduate didactic and clinical courses online and face-to-face. He currently serves as Associate Professor and Chair of the Doctor of Nursing Practice program within the College of Health Professions at Wilmington University.
___________________________________________________________________
For ANA Members and Non-Members.
Not a member? Join Now!