Summary
TIAA Business Continuity: Putting our plans to work so we can continue to serve you and your Employees.
Continuity. Communications. Confidence.
During this online event, you'll hear how TIAA people, process, and technology are at-the-ready to cover all aspects of plan services, for you and your employees…every day, and during times of disruption. Hear from TIAA Senior leaders who will discuss how our business continuity plans cover everything we do – from arranging emergency procedures with critical partners to assuring that your employees have prompt access to their accounts and funds.
Speakers
Doug Chittenden
EVP, Institutional Relationships
Doug Chittenden leads the company's Institutional Relationships team in TIAA Financial Solutions, which serves more than 15,000 retirement plan sponsors in the academic, research, medical and cultural fields.
In this role he oversees sales, strategy, offer management, relationship and services management, participant consulting and guidance for our institutional clients. His team is also responsible for managing relationships with key industry leaders and advocacy organizations.
Prior to this role, he led the organization's consumer product management and development functions, as well as distribution to individual clients of TIAA Direct (now TIAA Bank), 529 College Savings Plans, the Trust Company, Brokerage Services, IRA and Advisory Solutions, TC Life and Investment Products.
Since joining TIAA in 1985, Mr. Chittenden has held a variety of positions with increasing responsibility. Among his major accomplishments are enabling legislation for optional retirement plans in the state of Ohio; significantly increasing the number of institutional clients in Pennsylvania, West Virginia, and Delaware; launching the organization's brokerage platform; restructuring the mutual fund product line; moving the organization's IRA business onto its OMNI record-keeping platform, and returning the 529 business to an industry-leading position.
Mr. Chittenden holds a B.A. in economics from Rutgers University and is a registered principal of the Financial Industry Regulatory Authority.
Alice Hocking
EVP, Head of TFS Client Services
Scott Blandford
EVP, Chief Digital Officer, Head of TFS Technology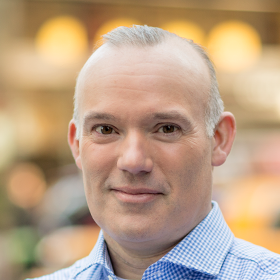 Teachers Insurance and Annuity Association of America (TIAA) has sponsored this webinar for information and educational purposes only. Responses from experts to questions posted during the webinar are not intended to give personal or specific advice. We strongly recommend that you consult with a financial advisor before taking any action based on an expert's opinion or other information you obtain from the webinar so that all of your personal circumstances can be taken into consideration.
Investment, insurance and annuity products are not FDIC insured, are not bank guaranteed, are not deposits, are not insured by any federal government agency, are not a condition to any banking service or activity, and may lose value.
TIAA-CREF Individual & Institutional Services, LLC, Member FINRA, distributes securities products. Annuity contracts and certificates are issued by Teachers Insurance and Annuity Association of America (TIAA) and College Retirement Equities Fund (CREF), New York, NY. Each is solely responsible for its own financial condition and contractual obligations.
© 2020 Teachers Insurance and Annuity Association of America-College Retirement Equities Fund, 730 Third Avenue, New York, NY 10017
For institutional investor use only. Not for use with or distribution to the public.
1093565
_1594550448966