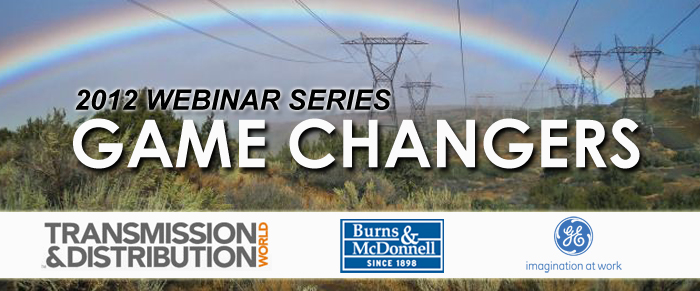 Session 1: Sustainable Substation Design
Now Available On Demand
Connecticut Light & Power and Burns & McDonnell have developed new sustainable design and construction methods for substations that could become a model for utilities looking to integrate environmentally friendly design and construction management practices in their next substation.
Join Ken Bowes of Connecticut Light & Power and Jim Hogan of Burns & McDonnell for a Jan. 30 webinar discussing how sustainable design and construction practices have been implemented at a substation site in a heavily populated area in Westport, CT. Sustainable design for substations can turn your next substation into an asset that can help you gain public support for needed system improvements.
---
About The Series:
Burns & McDonnell and GE, in partnership with Transmission & Distribution World, are continuing a series webinars in 2012 exploring innovative technologies and ideas that will truly change how power is delivered and consumed.

Join Burns & McDonnell, GE and their clients as they introduce online discussions that will challenge your thinking.

GAME CHANGERS: Innovation brought to life -- Register Now!
---
Webinar registration policy

The participation of our sponsors in this webinar enables us to provide this event free of charge to you. Part of the value we are able to provide our sponsors is information they can use to more effectively market their products and services. Accordingly, by agreeing to register for this event, you agree that we may share your registration information with our sponsors. We do not permit these companies to use your personally identifiable information without your permission for any purpose other than to send you information about their own products and services. To learn more about Penton Media's privacy policy, click here .